Made by Gather launch CruxGG through a Partnership with Target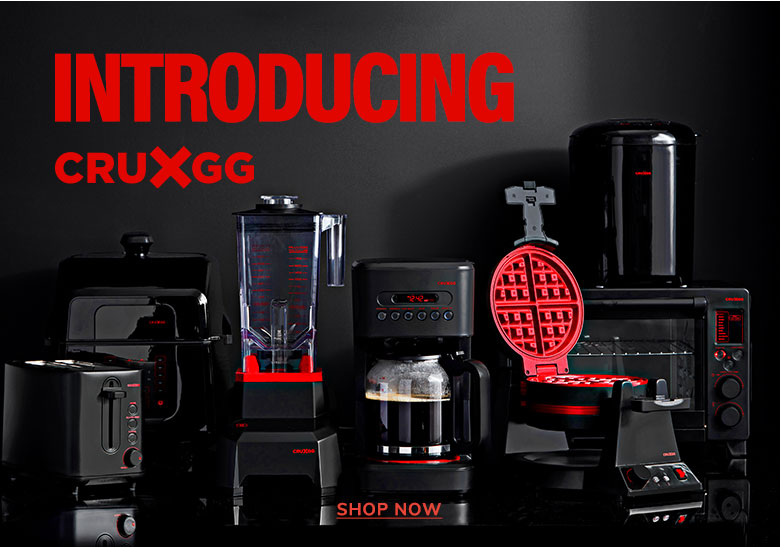 CRUXGG LAUNCHES EXCLUSIVELY AT TARGET
The Latest Kitchenware Collaboration From CRUX® and Ghetto Gastro is Now Available Exclusively at Target
 NEW YORK, NY—October 25th, 2021: CRUXGG™, part of the Made By Gather™ portfolio of kitchenware brands, announced the launch of their updated and expanded kitchen electrics collection with Ghetto Gastro, the Bronx-born culinary collective. Available exclusively at Target, this highly- anticipated new CRUXGG collection showcases 8 new products in 2 new colorways, SMOKE and SNOW—matte grey and matte white— each with signature CRUXGG red accents. The affordably-priced CRUXGG line is available online at Target.com and coming to more than 1700 Target stores nationwide this week.
The first launch of CRUXGG kitchenware landed in 2020 and proved to be an instant bestseller with the TRNR, a double rotating waffle iron, selling out just 48 hours after launch. The triple-coat matte black collection of 7 products gained fans and praise from culinary professionals, enthusiastic home chefs, hypebeasts, and celebrities—including Diddy, Chef Matty Matheson, Ruby Rose, and more.
The CRUXGG brand's continued commitment and vision for curating design-driven consumer countertops with purpose led to the creation of the second drop, this time in concert with Target. CRUXGG  kitchenware is unique in that its mission is rooted in giving back—5% of proceeds go directly to a  collective of nonprofits that are working to end food insecurity in underserved communities. Partners include Sky High Farms, Project Eats, Summer Everythang, Culture Aid New Orleans, and Isuroon.
"Kitchens have always been the heart of the home— they're meant for gathering—and are increasingly becoming an extension of an individual's personal style," says CRUX founder and CEO, Shae Hong. "We worked closely with Ghetto Gastro to create products that are first movers in innovation and design, and serve a purpose beyond the kitchen. CRUXGG's mission is to uplift communities, and we're committed to giving back 5% of our proceeds to organizations fighting food insecurity."
Born in the Bronx and inspired by a youthful generation of cooking enthusiasts, Ghetto Gastro, a dynamic group of food enthusiast and thought leaders, utilizes food to empower communities and advance social justice by igniting conversations around race, class, diversity and inclusion. Ghetto Gastro's members Jon Gray, Lester Walker, and Pierre Serrão previously worked with the CRUX design studio to create this second wave of countertop kitchen electrics that serve up a shared vision of style and purpose, one that uplifts communities and fosters meaningful connections through food.
"From the moment we linked up with Shae, the vibe was there and we quickly realized that we shared similar philosophies on culture and communities, as well as our continued drive to create what we want which, ultimately, is what the game is missing." says Jon Gray, co-founder of Ghetto Gastro.
The new collection includes:
9qt TRIZONE™ air fryer ($169.99), aka the "ZONE", which has a Patent Pending technology that allows you to simultaneously cook 2 foods at 2 different temperatures or 1 large meal using the full
6qt air fryer ($99.99), which was the most-requested product from consumers after CRUXGG's debut launch last The "CRSP" comes with a signature red nonstick basket and crisping tray.
2-in-1 indoor smokeless grill ($99.99), appropriately named the "VERS", has a versatile design that includes both a grill and a griddle
500 ℉ Searing grill / griddle ($119.99), aka "BRNR", one of the only combination grill/griddles that heats up to 500 degrees in only 8 minutes for a perfect sear.
6 slice digital toaster oven with air fry ($179.99), a toaster oven with 10 preset cooking functions that is aptly called the ALN1, short for "all in "
2 slice toaster ($44.99), or TSTR, a minimalistic take on the countertop staple that includes a special setting for toasting gluten-free
Single rotating waffle maker ($49.99), the ROTO, which rotates for evenly-cooked 1" thick waffles and comes with the brand's signature red, nonstick heating
14-cup programmable coffee maker ($69.99), a sleek countertop staple that comes with a brew-strength selector and keep-warm mode for a "PERK" whenever you need
About CRUX
Inspired by New York City's revered style and resilience, the CRUX(R) line was created in NYC in 2016 to engage a new generation of youthful cooking enthusiasts who were at the forefront of groundbreaking in- home culinary experiences. Since its inception, CRUX kitchenware has revolutionized this category and is touted as one of the first brands to match the appliance to the generation and not the other way around.
Best known for reimagining kitchenware without sacrificing premium design, functionality and accessibility, CRUX products are distinguished as a trailblazing category-buster at the intersection of culture and innovation. CRUX is a Made by Gather™ brand.
Founded in 2003 by then-22 year old entrepreneur Shae Hong, Made by Gather creates and incubates a portfolio of kitchenware brands for the design-savvy modern consumer. Made by Gather brands can be found online and in store at major retailers nationwide.
Follow CRUX on Tik Tok @crux.kitchen and Instagram at @crux.kitchen.
About Ghetto Gastro
Jon Gray, Pierre Serrao and Lester Walker are the Bronx-born culinary collective known as Ghetto Gastro. The Bronx is part of the team's lifeblood, and every piece of the Ghetto Gastro universe is meant to     uplift and celebrate the borough, and other places like it, as an unsung driver of global culture. Through immersive culinary experiences produced with the conceptual approach of art installations, they spark larger conversations around inclusion, race, and economic empowerment. www.ghettogastro.com